Renting an instrument has never been easier or more affordable!
If you are ready to begin the rental process, scroll all the way to the bottom of the page!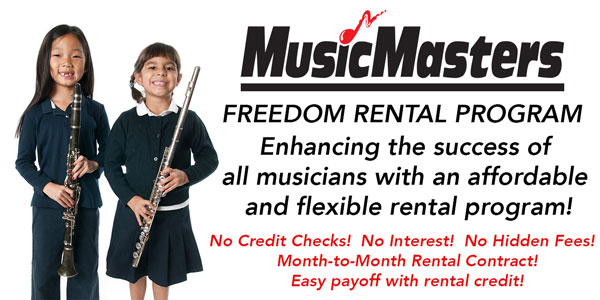 For more information regarding pricing and how our rental program works have a look at our rental flyer by clicking the link below! We rent all band instruments, guitars, and orchestral string instruments!
BAND INSTRUMENT RENTAL PLANS
We offer three different grades of instruments for our band instruments.

With our Gold Rental Plan you will receive a brand new band instrument fresh out of the box!




Our Silver Plan offers a previously rented instrument that may show some slight cosmetic wear but is still in excellent playing condition!

A great option if you're looking for something that is good looking and affordable!
The Bronze Rental Plan is our most affordable band rental plan!
With this plan you will receive an instrument that has has a long rental life and will most likely show cosmetic signs of wear. However, regardless of how often an instrument is rented, it is always processed by our on-site repair shop. The instrument is

thoroughly

cleaned and repaired to put it into it's optimal playing condition!
ORCHESTRAL STRING RENTALS
Our rentals for violins, violas, cellos and bases are set at their own rates. We only rent quality orchestral strings instruments that we know meet and exceed educational standards for craftsmanship, setup and playability.
Violins from 4/4 to 1/16 will have a rental rate of $24.99 per month.

Violas from 17" to 12" will have a rental rate of $24.99 per month.

If you are an adult and not in a school music program; please select "Out of Area or No School" from the district drop down menu.
If you do not see your school or music instructor, please notify us so that we may keep our database current!
*Sousaphone rentals with neck and bits will require a one-time $100 deposit, and will be refunded at the time of
instrument return. Deposit will be charged to your credit card at the same time your first month's rental payment is made.*
*Rental rates for Wood Bassoons, Tenor Sax, and Soprano Sax may vary from prices listed on our website depending on stock availability. Please call for pricing and availability if you are renting one of these instruments.*